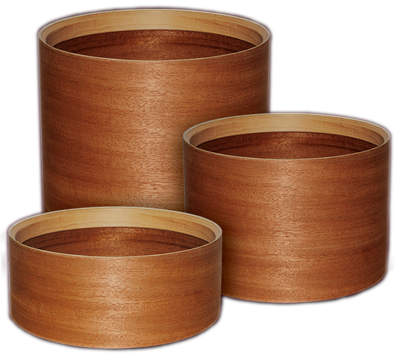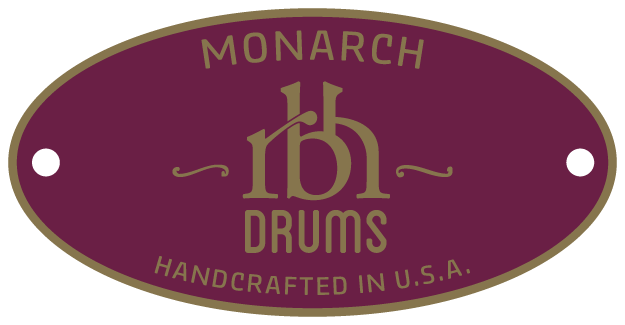 Monarch series drums employ a 3-ply configuration, based on very popular drums-1 produced by several drum companies of the 1940's, 50's and 60's.  These drums produce a warm, round and punchy tone, with few overtones; they sound equally well along the tuning spectrum, whether tuned high or low.   Monarch drums are extremely studio friendly and record exceptionally well.
All Monarch drums feature the time honored 3-ply construction which contain a poplar core that is sandwiched between any number of different species of wood.  The most common configuration is mahogany-poplar-mahogany, with solid steam bent hard maple reinforcing hoops. Veneer for Monarch drums is hand selected and cut, glue pressed to a center core of poplar, which is cut from select 1/8" stock, free of knots or voids. Once out of the molds, the raw shells are cut to size and reinforcing hoops applied.  After trimming the reinforcing hoops, the shell is thoroughly sanded and ready for finish.
I love vintage drums, but I cherish my RBH Monarch 3-ply drumset even more. It's elegantly designed, built to last, and possesses a ton of old-school mojo-"The best recorded bass drum sound I've ever produced"
– Mike Dawson, Modern Drummer Magazine. 
Monarch finish consists of hand rubbed penetrating oil and wax, which is buffed to a lustrous elegant sheen.  The oil and wax finish is very durable, protective and easily maintained.  Peacock confetti wrap is an rbh drums exclusive and is available on any drum upon request.  Check with rbh drums for the availability of other wraps and colors.
Veneers offered for Monarch exteriors are mahogany, cherry and maple.  Other species such as birdseye maple, curly maple, walnut or combinations such as inlays, are available upon request.
Take a look at the rbh drums collection in the Photo Gallery.
Monarch Snare Drums
Monarch snare drums offer a vintage sound with excellent response at any playing volume.  They possess a very wide tuning range; able to produce a high end crack or a low, fat back beat and are extremely versatile for most any playing situation.  All Monarch snare drums come complete with:
Solid hard maple reinforcing hoops
2.3mm chrome plated steel hoops
Trick GS007 3-step throw-off
Puresound 16 strand snares
Rbh heads by Remo
Custom snare bag and drum key
Monarch Toms
Monarch Series toms' tuning range is vast. Many vintage drums have one or two sweet spots, however Monarch toms sound full, open, and highly expressive at any tuning. Whether tensioned high for bebop or low and fat for rock and funk, these drums punch through in any playing situation. The bearing edges are cut to a round-over, but 45-degree edges are available.
All Monarch toms are supplied with:
Customer's choice of veneer
Solid hard-maple reinforcing hoops
Solid-brass chrome-plated tube lugs
2.3mm chrome-plated steel hoops
Rbh-exclusive genuine-leather scratch guard
Round-over bearing edges
Rbh heads by Remo
10.5mm floor tom legs
Gauger RIMS mounts with holder are available as an option
This track features the Monarch drum kit with: a 20″ bass drum, a 12″ tom, a 14″ tom, and a 6 x 14″ snare.
Played by Mike Dawson of Modern Drummer.
Monarch Bass Drums
Monarch bass drums are meticulously crafted to produce a punch and bottom unmatched by other drums. Round and melodic at higher tunings, to fat and punchy at lower tunings, the resonance remains focused and controlled. "The best recorded bass drum sound I've ever produced" – Mike Dawson, Modern Drummer Magazine. Each Monarch bass drum comes standard with poplar reinforcing hoops and rounded bearing edges that allow each drum dynamic range and punch, without unnecessary ring; Rbh bass drums need very little additional dampening. Each bass drum comes with:
1.5 inch select poplar reinforcing hoops
Heavy duty spurs
Remo Powerstroke 3 batter head and Rbh logo fiberskyn resonant head
All bass drums are delivered as virgin instruments.
Monarch Series Drums
Individual drums can be combined to create custom drum configurations.
Snare Drum
4″ x 13″
5″ x 13″
5.5″ x 13″
6″ x 13″
6.5″ x 13″
7″ x 13″
4″ x 14″
5″ x 14″
5.5″ x 14″
6″ x 14″
6.5″ x 14″
7″ x 14″
8″ x 14″
Bass Drum
14″ x 16″
14″ x 18″
16″ x 18″
14″ x 20″
16″ x 20″
18″ x 20″
14″ x 22″
16″ x 22″
18″ x 22″
14″ x 24″
16″ x 24″
Rack Tom
7″ x 10″
8″ x 10″
8″ x 12″
9″ x 12″
9″ x 13″
10″ x 13″
10″ x 14″
12″ x 14″
12″ x 15″
12″ x 16″
14″ x 16″
Floor Tom
13″ x 13″
12″ x 14″
14″ x 14″
14″ x 16″
16″ x 16″
16″ x 18″