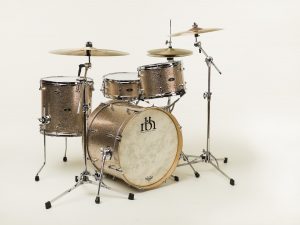 Westwood Series
Westwood Drive…. The street I grew up on; where I got my first drum set; where I started woodworking.  The Westwood Series pays homage to my old stomping grounds, to all of the people in garage bands around the neighborhood, to the summer-night drum sound of the late sixties and early seventies.  I will never forget the first time I heard guys playing somewhere down the block and riding my bicycle to find them and see what was happening.  I was five years old and as I pulled into the driveway, the red sparkle drum set caught my eye and has been my favorite ever since.  The fun those players were having and the feelings I got when I heard the drum intro made me want to compel others to feel the same way – by playing and by crafting the kit of our dreams.
---
NAMM 2017 rbh DRUMS introduces the new Westwood Series; A 3-ply shell of mahogany and poplar that is 3/16" thick without reinforcing hoops. The resulting sound is exceptionally warm with low fundamentals and fairly rapid decay, making it very suitable for studio or live situations. The bearing edges have a slightly rounded outer edge with a 30-degree counter cut. All drums come standard with rbh chrome plated solid brass single point lugs, 2.3mm chrome hoops, heavy duty bass drum spurs and Remo heads.
The Westwood Series is available in four different wrapped finishes which include: Champagne sparkle, ruby sparkle, dark blue sparkle and white marine pearl.
---
The Westwood Series is available in two different sized kit configurations:
14 x 20, 14 x 14, 8 x 12, 5 x 14 snare (rbhww2012)
14 x 22, 16 x 16, 9 x 13, 6 x 14 snare (rbhww2213)
Contact RBH for further details and ordering information: Rbh drums- 757-536-3847